I would like to say that I dreamed this two months ago. We were walking around Carter Finley and everyone was so happy because we beat Clemson. (Hasn't happened since 2003). The hubs was like, "Ha. Not likely. But - we do play at home this year. It'd be really weird if we actually did win."
And... TA-DAAA!
We are all in shock. Even our own coach said he had no explanation for what happened last night.
RALEIGH -- Only in the unpredictable ACC does this happen.
A week after losing to a team near the bottom of the Atlantic Division standings, N.C. State demolished the first-place team in the division.

Yep, that's pretty much how we do at the Stizzle. The talent is there, but we have a wiiiiiddle bit of a problem gettin fired up enough to actually use it. What the dealy?
Definitely had to celebrate such an important (and shocking) win ...
by howling ...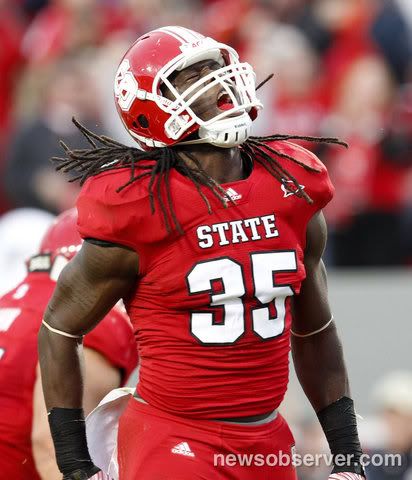 and breakin it down with Ms. Wuf ...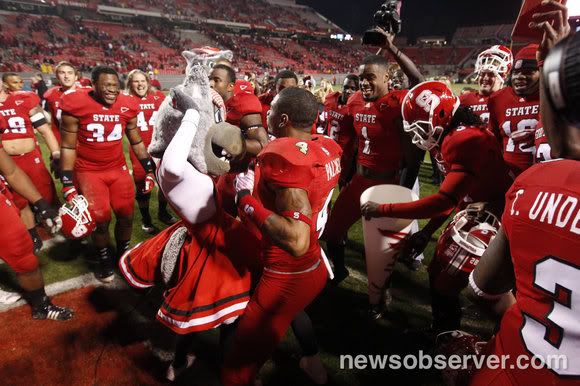 Wonder what Mr. Wuf is back there thinkin?
Sadly, we weren't at this game. Watched it at home on the telly. HOWEVA - I was wearin my bomb
NC Stizzle Scarf
.
Thank you,
Mellow Mushroom
for your gluten free menu choices. Holla! Been cravin some pizza! It was YUMM-O!!
Bonus: It was a GORRRRGEOUS day and we sat outside!
Now, I hope this week goes fast and Thanksgivin'll be here shawtly!