G'day Sugar Lumps!
I hope y'all slept well last night. And all the nights before that in the last week or so because I have not been sleeping, my friends.
No, I been gettin up every mornin at approximately 2:19 am to have an 'OJ with a side of PB' party in my kitchen.
You see, I have gotten my sensor addicted to this apparently. So now, every night, homegirl starts beeeeeepin and hollerin to get up and play because my blood sugar is low.

*If you are new to these parts and are wonderin, WTH?, you should know, I have the dia-bee-tus.


But, if I ignore her, she starts to vibrate and it sounds like a texting extravaganza goin on beneath the sheets with all the beepin two or three different ways and the vibratin, and then, I begin to dream weird dreams as a result of said strange noises and vibrations, and because my blood sugar is low. I dream of eating food that is gross, like sweaty cheese that's been sitting out on a party tray in the heat a few hours too long.
I try to be sneaky and use the handy feature on my pump where I silence all the alerts. But, this just means that when I finally do wake up, I am so low that I am about half out of my head and trying not to fall down the stairs to the kitchen.
But I figure, hey, long as I'm up, why not take pics so I can blog about it? Because I just lay there for
eva
waitin to fall back asleep anyway.
***
Here is my pump. Bless her sweet little heart. She enjoys beeping, vibrating and delivering insulin to my body since my pancreas said no thanks. Sometimes I like to call her Peggy. She does all the beepin and nonsense because my sensor tells her to. But the sensor is inserted into my fat and I ain't hateful enough to make y'all look at a picture of that.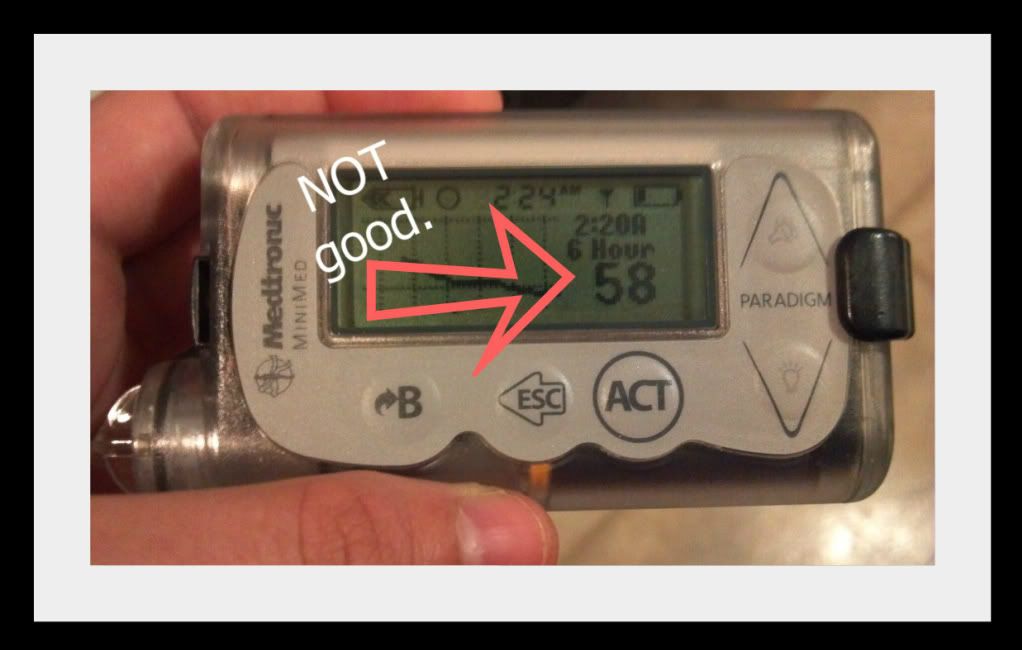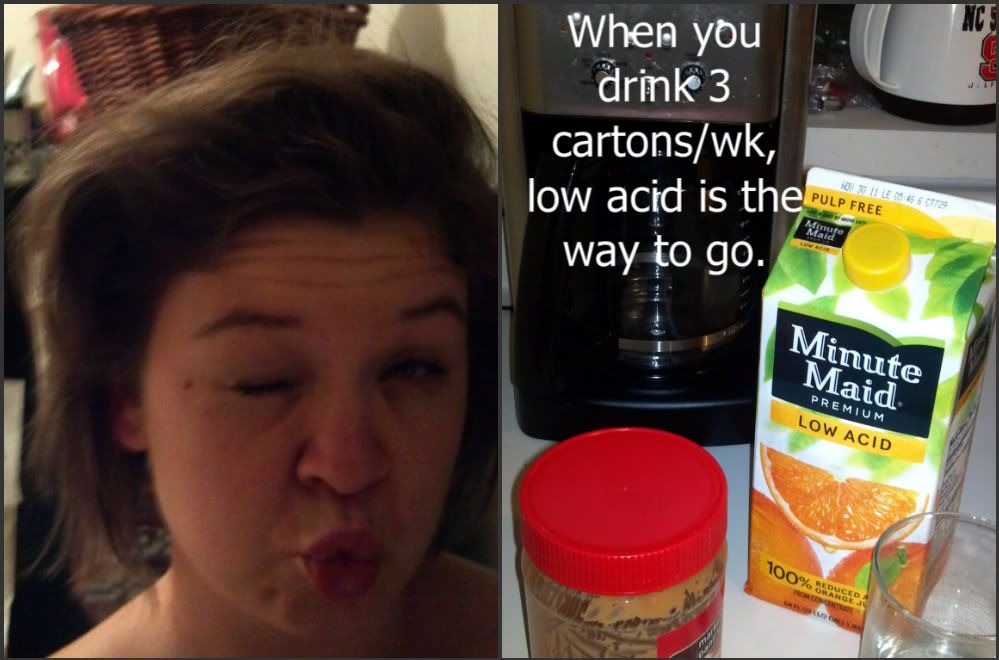 Why don't I just adjust the insulin so I don't stay low all the time, you might be wondering. Well, I say you are clearly simple minded and don't know very much about diabetes. If only it were that simple. Hormone fluctuation plays a HUGE role in how my body reacts to insulin, so it's forever changing. And even if it weren't a hormone thing, I can't just be makin adjustments willy nilly. I have to wait and see if there is a pattern to it, over the course of days, or if it was just a fluke - too much insulin at supper, too much activity, not enough carbs with the insulin, etc.
And the best part is, since hormones play a role, when you are a girl, it's waaaaaay more complicated because of the lovely dreaded menstrual cycle. Such a dirty game she plays. Week one - low, so I adjust down. Weeks 2 and 3, increased estrogen levels = insulin resistance = need more insulin, so I increase every couple days as needed, and week 4 = sky high = need lots of extra insulin. Then, it starts all over. Thankfully, my handy lil pump has a feature where I can increase the basal (insulin that's delivered in the "background" 24 hrs/day) by a percentage. I totally depend on it.
But I am learning that said increases are too much at night.
New plan: increase basals, but not as much, but also give extra bolus insulin (insulin with food) to help prevent night time/2 am/4am/5am lows. The thing about diabetes, for me, is that you never really get it "figured out". Your body is always changing. It's an ongoing experiment. But, I am SO THANKFUL for how far we've come in dia-bee-tus land. The technology is amazing. The Lord is so lookin out for me.
Sometimes I worry that hubs feels inconvenienced by the wife's diabeetus, and the gadgets, and the disruptions to his sleep, etc - poor thing:
Now, aren't you glad you learned somethin?
This is why I'm hooked on DD coffee for caffeine consumption so I can function - the whipped cream part is just because I like it.
;)